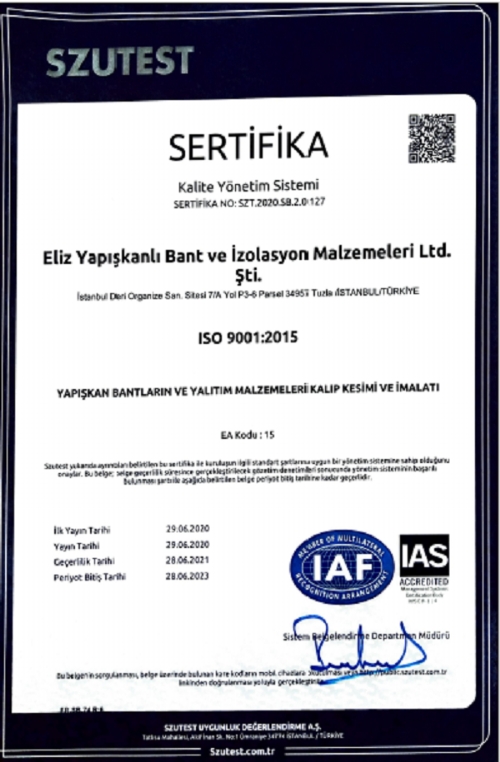 ELIZ's symbol will be satisfaction.
All of our commitments, behaviors, products we sell, and personal relationships should be perceived as a manifestation of quality.
The biggest foundation of our existence is our customers.
Customer satisfaction is our most important quality criterion. It is our goal to ensure that our customers see ELIZ as a reliable supplier.
The reason for applying the procedures and instructions that determine our quality policy is to ensure customer satisfaction.
Each shipment of ours must create a reference for the next order.
Our greatest assurance in ensuring customer satisfaction is our staff.
Conscious of the fact that an unsatisfied employee cannot create a satisfied customer, it is one of the most important conditions for customer satisfaction to constantly observe the competence, training, wishes and needs of the personnel.
Our main goal is to provide honest, reliable, quality service and product.
Our main approach is to protect the environment we are in and to use our natural resources efficiently, to research, follow and apply technological developments that increase our competitive power in accordance with the changing market conditions.
We are a company that respects people and has freedom of expression. The place we want to reach with our quality policy is a competitive company with strong own resources, increased business partnership with its suppliers, a solid organizational structure, a reputable company, full of self-confidence and dedicated personnel.
Our company's name and Turkey to serve the world more to announce objectives, existing technical, administrative and financial to invest more in our savings by increasing continuously.
To ensure that the most appropriate, most accurate and most economical solutions are produced in the fastest way and to prevent inconveniences that may arise later.
To complete each project on time, in full compliance with the project with the highest level of techniques, in the desired quality and within budget limits.
To be an exemplary organization that respects the society and the environment we are in, and to contribute to the country's economy by continuously improving its business volume.
Keeping the cost of poor quality at a maximum of 3% and gradually reducing this level to 0.5% levels every year.
The directives, regulations, circulars, laws, etc. issued by the state, state organs, institutions and legislators. To carry out our activities by fully respectful and effective compliance with legal processes.
Our Quality Personnel, who are authorized by our company, are authorized to operate our continuous improvement procedure, acting in line with the philosophy of continuous improvement in all negativities originating from inside / outside the company, and our quality department will continue to be given full support by our management.
Apart from the obligations brought by legal requirements, our business aims to comply with all applicable and other conditions, to carry out the effectiveness, applicability, contribution and systematicity of our existing quality management system and / or systems with the understanding of maximum efficiency, the necessary investments are made by our company in material and spiritual terms.